Hydro 3 Skin Protection Razor – Designed for incredible skin protection!
We've designed every aspect of the razor – blade cartridge, lubricating system and handle – they are designed for incredible skin protection!
Technology
Our gel pools create a protective barrier for a comfortable shave. The gel is dermatologically tested and covers the skin like a protective film, and contains aloe vera.
Our 3 blades with skin guards double the points of contact to smooth the skin and help to prevent irritation.
Our handles are ergonomically designed.
Packaging
Our packaging is made from more than 90% recycled paper and the packaging is recyclable-please check your local recycling facilities.
What if you could help prevent skin irritation while shaving?
Daily shaving can lead to irritation but Wilkinson Sword's Hydro 3 Skin Protection men's razor is designed for incredible skin protection.
Great value shaving from Wilkinson Sword. Fits with any other Hydro razor.
PEG-115M,POLYQUATERNIUM-10,AQUA,SODIUM ACETATE,SODIUM CHLORIDE,ZINC STEARATE,ISOPROPYL ALCOHOL,CYCLODEXTRIN,ALOE BARBADENSIS LEAF JUICE,CALENDULA OFFICINALIS FLOWER,CAMELLIA SINENSIS LEAF,CERAMIDE NG,HYDROGENATED JOJOBA OIL,MALTODEXTRIN,PANTHENOL,SODIUM HYALURONATE,TOCOPHEROL
HYDRO 3 SKIN PROTECTION FEATURES
3 BLADES
3 blades with skin guards help to prevent irritation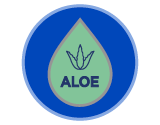 SKIN PROTECTION
Designed for incredible skin protection with aloe vera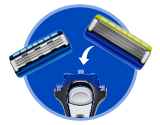 HYDRO COMPATIBLE
All Hydro razors and blades are compatible with this razor